Federation News Blog 01 - September/October 2022

Welcome to our first blog of the new school year and a warm welcome to all of our new pupils and families that have joined the Federation since September.
Term 1 has been very busy, with children settling in well and getting started on exciting new topics and learning in their new classes and school years. Year 5 have been visited by Badminton School, to see a live liquid nitrogen demonstration, 6M have experienced Victorian school at the Tithe Barn in Nailsea (6B are eagerly awaiting their trip to leap back in time to Victorian school), and Year 3 have travelled back to the time of the Ancient Egyptians to take part in a very exciting WOW day.
Upcoming Diary Dates:
Monday 10 October - 6B trip to Tithe Barn, Nailsea
Monday 10 October - BJS Harvest Celebration at St Andrew's Church, Backwell at 0930 (Please bring harvest donations in to school by Monday morning 10 October - See poster below for suggested items)
Thursday 13 October - WL Harvest Assembly at 9.15am
Tuesday 18 October - WL Enrichment Morning
Friday 21 October - Last day of term
Monday 31 October - Inset day 3 - Both schools closed to pupils
Tuesday 1 November - First day of Term 2
In this edition:
WL Superstars Winners & BJS Celebration Award Winners
Term 1 Book Corner
Harvest Collections
News from our classes
Harvest Collection Poster from Clevedon & District Foodbank
WL PTA News
PTA Circus Update
French club flyer (WL)
Mobile Library Information
Aspens October Fun Sheet - Pumpkins
Homestart Volunteer flyer
External clubs and half-term clubs
POLITE REMINDER
Dropping off and collecting children to/from school
Please may we remind all parents and carers to be considerate in their parking when dropping off/collecting children from all schools and before/after school activities and events.
There should be absolutely no parking on the yellow zig zags outside of school at any time.
Please be considerate of our neighbours and keep clear access for vehicles
(including emergency vehicles) around the school location at all times.
The road outside BJS in particular, is very narrow. We must continue to work together to ensure the safety of the children, parents, carers, staff and other pedestrian around our school
Thank you for your support with this.
***********
Free School Meals - Could your child be eligible?
There are two schemes in place:
Universal Infant free school meals – for all children in Reception Year, Year 1 and Year 2. These are automatically given at the school. You do not need to apply for them.
Free School Meals – for those on qualifying benefits. Please apply for these using the online checker in the link below.
Some children may be entitled to Free School Meals if their parents/carers receive certain benefits. If you are on these benefits, please use the link below to apply for free school meals. You can still apply for free school meals using the checker if you claim benefits and have a child in Reception, Year 1 or Year 2.
https://www.n-somerset.gov.uk/my-services/schools-learning/local-schools/schoolmeals/freeschoolmeals/
The allocation of Free School Meals means that the school will also be allocated some additional funding to support small group learning and can be used to subsidise school trips, uniform etc.
Vacancies at West Leigh and BJS - Lunch break Supervisors
School: West Leigh Infant and Backwell C of E Junior
Hours: West Leigh - 6.25 hours a week, term time only (11.50am – 1.05pm Mon – Fri)
Backwell C of E Junior - 6.25 hours a week, term time only
(12.25pm - 1.40pm Mon, Tues, Wed & Fri), (11.55am - 1.10pm Thurs)
Contract: Permanent
Start: As soon as possible
Pay: JG1C pt 1 - 2 (FTE £17,842 - £18,198) - Pro rata - £2,577 - £2,629
We are looking for caring and enthusiastic Lunch break Supervisor to ensure our children have a happy and safe lunchtime experience.
Duties will include:
To supervise the movement of pupils to and from dining areas, including any personal hygiene requirements.
To maintain good order and excellent hygiene practices in dining areas.
To assist pupils, where necessary, with the collection of food and return of trays, or other items to the service counter.
To assist pupils, where necessary, with the proper use of cutlery, drinking facilities or other aspects of the midday meal.
To assist in the clearance of any spillages and wiping down, clearing or resetting of tables, as appropriate.
To monitor behaviour in the playground and assist where necessary, ensuring a safe environment for the children.
To take any immediate action to attend to sickness or accidents by carrying out minor first aid and summoning relevant assistance.
Please have a look at our vacancies page for further information and application forms.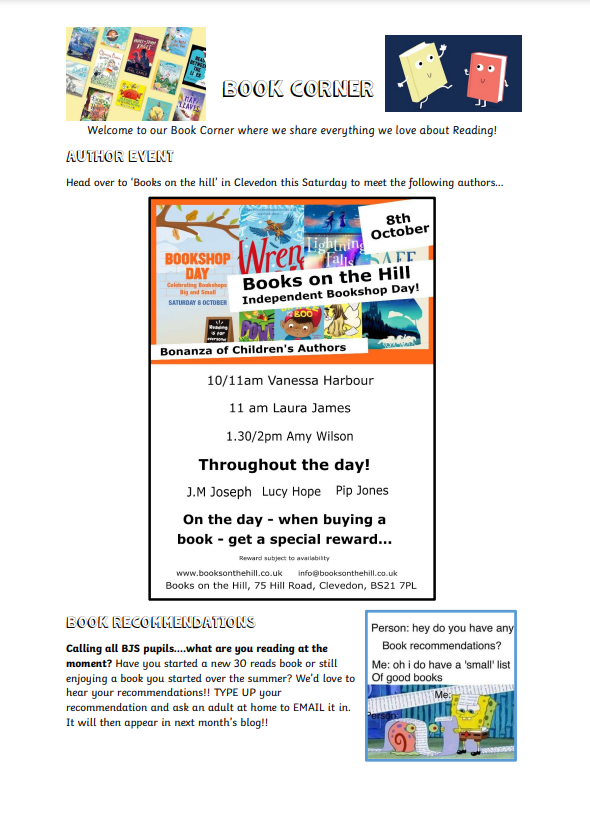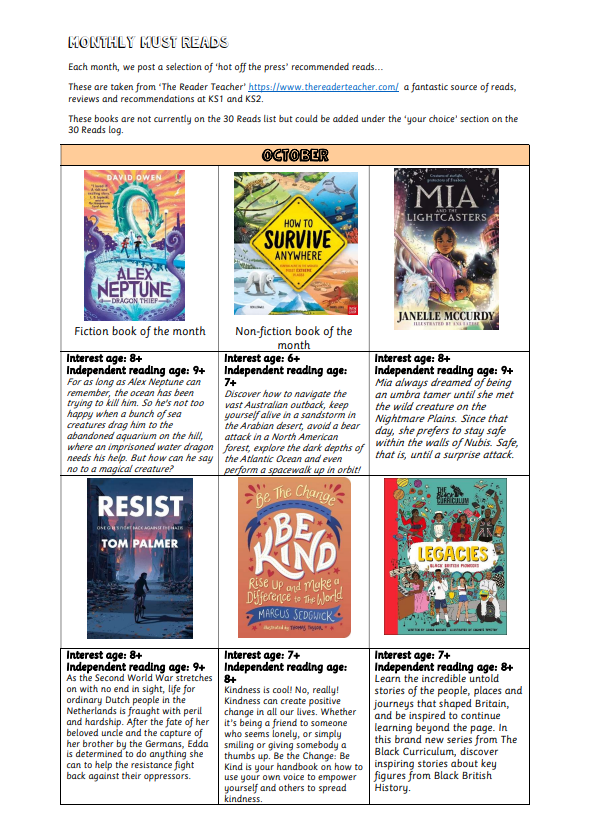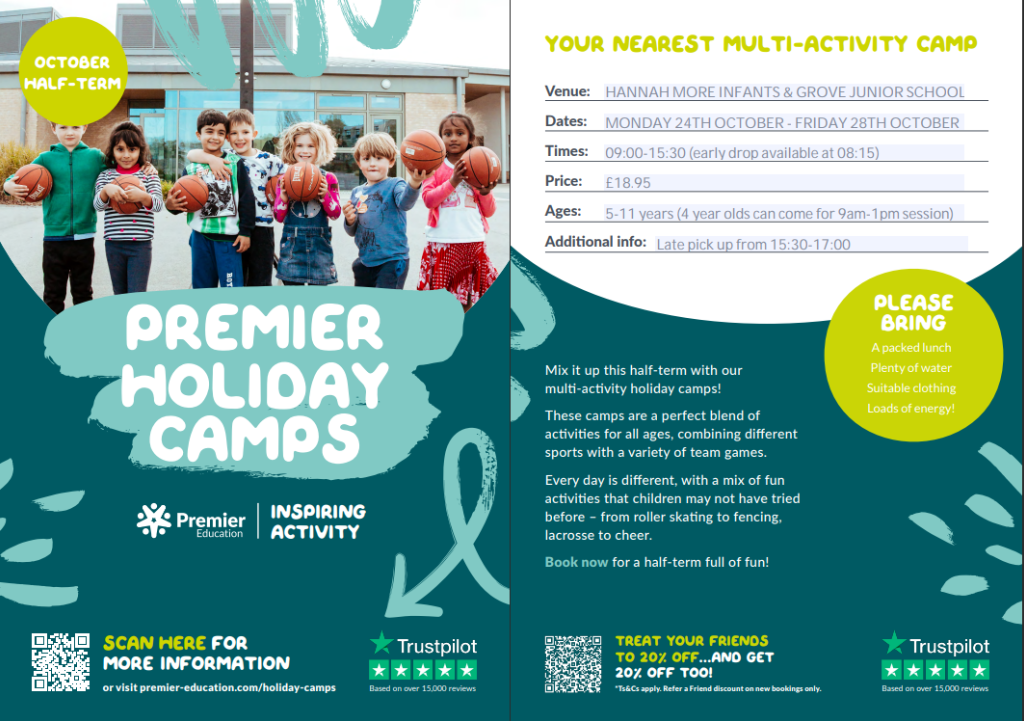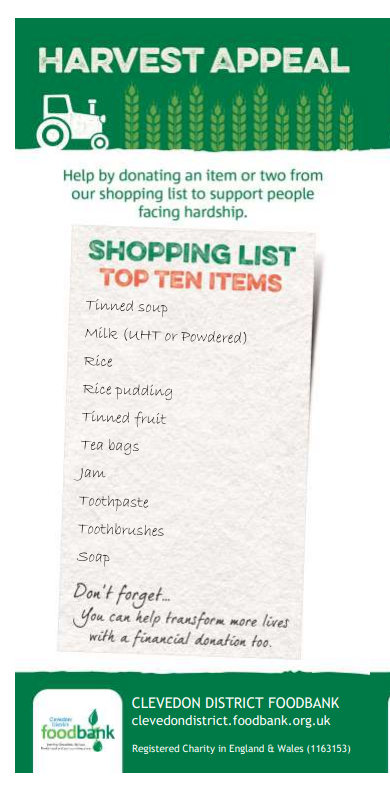 Please find details of the October Half Term Holiday Camps at Backwell Tennis Club
Mini Red & Orange Ball sessions run 9-10.30 on Monday 24th Tuesday 25th & Wednesday 26th October for ages 4-8
Backwell Tennis Club: https://clubspark.lta.org.uk/BackwellTennisClub/Coaching/Camp?courseID=80d2ab98-ce5f-443d-ba32-e4a7cd1e02b3
All Abilities Green & Yellow Ball sessions run 10.30-12 on Monday 24th Tuesday 25th & Wednesday 26th October for ages 8-14
Backwell Tennis Club: https://clubspark.lta.org.uk/BackwellTennisClub/Coaching/Camp?courseID=c7cb716c-b6ed-401e-a4e3-6138649bd03b
Sessions cost £12 per morning or £30 for the full three days of coaching.
If numbers allow, then groups will be split into ages with our excellent LTA accredited coaches.
Places are booked on a first come, first served basis.
Please bring a waterproof coat in case of wet weather.
Best wishes Ben & ;the coaching team'
Ben Tilling LTA Level 4 Accredited Plus Coach
Head Coach & Tennis Manager @ Backwell Tennis Club
matchpointtennis@live.co.uk