West Leigh Leavers Hoodies
Leavers Hoodies 2021 for Year 2 Students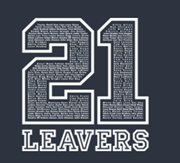 •In previous years leavers hoodies have been arranged for year 2 students. As the children seem to absolutely love them, this year is no exception. The PTA are able to subsidise the hoodies, bringing the price down to £7.50 each!
•In order for the hoodie design to be finalised, West Leigh PTA invite parents to go to The Backwell Federation PTA Events site by 28th May. This will allow you to:
1) Buy your preferred size for your year 2 student
2) Importantly give permission for your child's name to feature on the back
3) Select how you would like your child's full name to be displayed
e.g. Debbie Williams instead of Deborah Williams
http://www.pta-events.co.uk/backwellfederationpa/
•If you do not want to order a hoodie but are happy to still give permission for us to include your child's name, you can also do this, using the link above. We would really like to have the full year group printed if possible.
•We are aiming to have them printed by early July. Once we can confirm the design we can get moving with the order. The final colour for the whole year group is to be confirmed. The front will feature a small federation logo and the back will have "21 leavers" as seen here top left. Why not order a Tea Towel at the same time?
Many Thanks WL PTA J